Motorcycle helmets are important for women riders for a variety of reasons. The most obvious reason is that a helmet can protect your head in the event of an accident. A good helmet will protect you from serious head injuries, which can be life-threatening. Another important reason to wear a motorcycle helmet is that it can help you to stay cooler while riding. A good ventilation system will allow air to flow through the helmet and keep your head cool.
Whether you're a passenger or the one riding, being on a moving motorcycle without a helmet is a bad idea. For women, we understand how aggravating it must be to find the appropriate helmet that fits and is comfortable. There was a time when the importance of women's motorcycle helmets on the market was reduced. Many major and high-end industry leaders have rigidly focused on producing and developing motorcycle helmets solely for men. Some people may interpret it as biased toward males, but the fact is those female motorcyclists were extremely rare at the time.
The Three Best Womens Motorcycle Helmets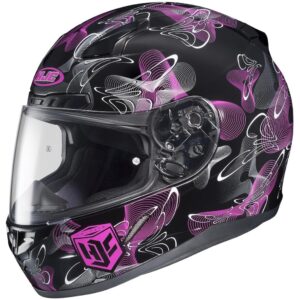 #1 – HJC CL-17 Mystic Full-Face Motorcycle Helmet
The HJC CL-17 is a super light helmet with an advanced polycarbonate composite shell that provides a superior fit, as well as all of the safety features you could desire in a DOT-approved helmet. The lightweight, superbly molded polycarbonate composite shell is ideal for small women's head shapes.
Excess heat and moisture can be drained away from your face using the patented air spring technology, which is also used to adjust the fit and comfort. Advanced CAD technology helps improve both fit and comfort. The anti-scratch pin lock-ready face shield provides full-face protection but also ensures excellent visibility with a 95 percent U.V. rating. The side shield lock mechanism creates an ultra-sturdy seal that protects you against the elements.
The CL-17 Mystic's face shield is not only technologically advanced, like other optional accessories of the CL-17 Mystic, but it also has a tool-free, fast-fire replacement mechanism that means you won't be carrying around extra components and tools and changing your visor on a whim. With state-of-the-art front-to back airflow that flushes heat and humidity up and out through the custom designed channel system, the Mystic provides excellent ventilation.
The 'SuperCool', moisture-wicking inside fabric keeps you cool during lengthy rides while also wicking away any perspiration. Plus, the cheek pads and liner are both detachable, making replacement or cleaning a snap. You've got a comfy, safe, and sanitary motorcycle helmet when you combine the antibacterial qualities of the cloth with this helmet's anti-fog coating.
You can't forget about the style. For every lady motorcyclist, the HJC CL-17 Mystic is ideal for any age and skill level because it has pink and white swirls on an all-black foundation. The HJC CL-17 Mystic is a super cheap, entry-level motorcycle helmet for women of all ages and riding levels that offers amazing value.
#2 – Bell Women's Vortex Monarch Helmet
The Bell Women's Vortex Monarch Helmet is a fantastic choice if you're searching for the traditional Bell quality in a beautiful, feminine package. The Vortex has outstanding safety features from the start. This DOT-approved helmet can go straight from the road to the track with ease thanks to its technology, making this one of the best women's motorcycle helmets.
The inside isn't only built with a pleasant atmosphere in mind. Design and functionality are once again seen in the Bell Vortex's interior. The lining is detachable and washable, made of high-quality antibacterial and anti-microbial materials. We'll get back to the subject of the interior later on. The specially created ventilation system twists and turns through the interior lining groves, giving excellent temperature control.
The inside air is drawn through the FlowAdjust velocity flow ventilation system, which helps to keep the rider cool and minimizes noise and wind buffeting via low-profile vents. The padded wind collar also aids in the reduction of noise created by wind and roads. It also comes with a five-year warranty.
We adore this helmet for everyday uses such as accessories and light-duty track and off-road excursions. The pink, white, and black butterfly design makes this an excellent choice for women's helmets. You also have a fantastic value-priced woman's helmet with the addition of safety, performance characteristics, and price point.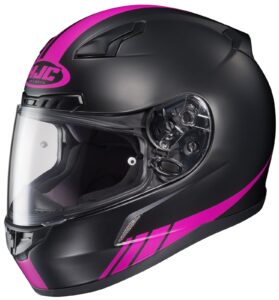 #3 – HJC CL-17 Streamline Full-Face Motorcycle Helmet
We like it when you don't have to make compromises in terms of comfort or safety for an attractive motorcycle adornment. The HJC CL-17 Streamline is the next step up from the Mystic HJC helmet we previously discussed on our list of best women's motorcycle helmets. It's easy to see why HJC makes both lists. HJC is known for its commitment to innovation, quality, and dependability, which has earned it a reputation as one of the best entry-level and budget motorbike helmets on the market.
What is it about the Streamline that makes it worth the extra money? For one, superior CAD technology allows for a more precise fit and greater comfort in a lighter package. The face shield also gets an upgrade with anti-scratch and pin-lock ready, providing 95 percent U.V. protection. The shield is bolted into position using a side shield lock mechanism for an ultra-secure seal against the elements and buffeting winds at high speeds, similar to other HJC helmets. The Streamline also has tool-less face shield removal for easy, hassle-free installation.
The CL-17 has a variety of excellent reviews, but the comfort level is bolstered by anti-bacterial fabric, full front-to-back airflow flushes, and HJC's SuperCool moisture-wicking interior cloth. The cheek pads and liner are also easily replaceable with various HJC bespoke add-ons.
The HJC CL-17 is an excellent choice for intermediate riders. It's a huge step up from the beginner-level Mystic with improved ventilation and attractive, understated design. If you're shopping for a comfortable, performing, and beautiful helmet, the HJC CL-17 is the Women's option.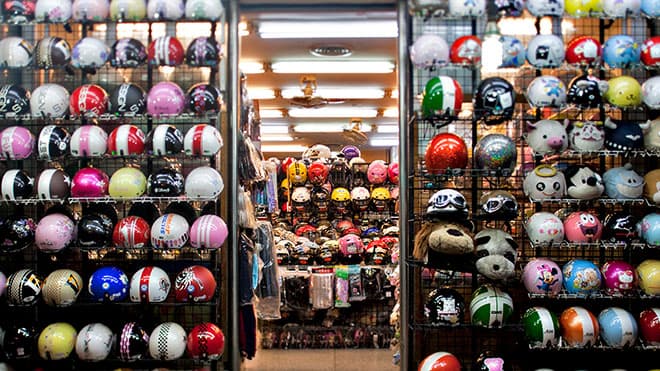 How to Choose a Women's Motorcycle Helmet
Choosing the appropriate helmet for a woman or anybody else might take some studying, but it's important to make that your mission before purchasing.
Analyze the features including:
Protection standards (Tip: look for DOT-certified)
Type (Sport, open face, off-road, etc.)
Size (Measure your head!)
Comfortability (Is the inner material foam and have ventilation?)
Extra features (Are you in the sun a lot and need UV protection?)
If you look at your options wisely and understand the features that you're getting at a good price, you're all set! You should have no problem finding the best women's motorcycle helmets.
Different types of motorcycle helmets for women
Before moving on to the next stage, it is essential to be aware of various types of women's motorcycle helmets. They come with different levels of degrees of protection and comfort. Before you decide on the fitting helmet, you must be aware of the various kinds. Right?
So, let's check it out.
Women's Full-Face Motorcycle Helmets
Women's full-face motorcycle helmets for women can provide all-around protection for your face, head, and chin. In addition, when riding through the stormy winds of winter, full-face helmets are your best option for blocking UV Rays and keeping bugs and dust away from your eyes.
This is why many organizations and foundations insist on motorcyclists using full-face helmets. Since the chin region accounts for about 35 percent of the collision force, it will not be present in half-shell and open-face helmets.
In this review, we've picked the best full-face helmets that comply with the safety standards of at minimum one of the following: DOT, Snell M2015, and ECE 22.05. You can then go through them and pick the best one you think.
Customized Motorcycle Helmets for Women
The modular motorbike helmet is just the thing you require to enjoy riding while ensuring complete protection of your face and head. Its "flip-up" benefit of a modular helmet gives you a choice to wear it as an open-face or a full-face one as per the rider's requirements. Additionally, it's an ideal alternative for those who like to take long ADV trips and need security for their daily commute.
We've compiled the best 2022 female modular helmets that possess the attributes of a full-face headgear and the ability to use it as an open-face helmet without purchasing two different designs.
Note: While riders have the option of using the flip-up feature in modular helmets, it's advised not to wear modular helmets that are open-face positions because when riding in a flip-up mode, the hinge is a weak spot for riders, which could break in the impact of an accident.
Women's Motorcycle Helmets with Open Faces
If you do not often use your bike or only as a passenger with your friend, then prefer a face-to-face type of helmet; they don't offer absolute, but offer the least amount of protection for your head in the event of collisions or falls; however, they provide excellent airflow, allowing you to take pleasure in the journey. There aren't all the benefits of a full-face one, and the material used in this helmet is the same as that of the full-face helmet, however, in lesser quantities. Don't expect too much in terms of head protection.
It is also lightweight to wear and carry around. Also, hot and sunny in the daytime, it's challenging to obtain adequate airflow with the full-face helmet. In contrast, the half-shell or open-face helmet will expose you to elements from nature like dust, wind, and harmful UV radiations.
The main reasons I can see to opt for an open-face helmet are 1. Affordable price, 2. Lightweight and 3. It is suitable to wear in the summer when you are an observer.
Today, there are a variety of incredible women's open-face helmets that are affordable and come with elegant designs and finishes that will attract other riders' attention.
Women's Motorcycle Half Helmets
Half-face helmets, also known as semi-shells, are a category of open-faced motorcycle helmets, and both appear alike. However, instead of leaving your face visible in front, these only protect just the head's top and let the rest exposed.
The less protection you have means less weight and a higher degree of comfort. Half-face headgears are the most comfortable motorcycle helmets on the market. Due to their superior ventilation, they'll keep your face free of sweat in the summer heat. In addition, as the lightest types of helmets for motorbikes, they will help stop all kinds of neck pains and headaches.
Because of their lack of protection, helmets are not recommended for riders who ride at higher speeds. They're suitable for cruising and street use; however, that's all they are for. A motorcycle half helmet could be purchased at a fraction of the cost of the full-face helmet.
Dirt Bike and Motocross Helmets for women
A Motocross helmet is designed to protect your eyes from off-road riding and racing. It offers the additional protection required for this kind of activity and also has an open front for wearing glasses to shield dirt and grime from the eyes. They provide maximum protection as well as pretty good airflow and comfort.
Categories of Motorcycle Helmets for Women
In addition to the various types and designs of women's motorcycle helmets, specific categories exist. In this article, we will look at the helmets differently and provide you with different kinds of helmets for motorcycles that you could be seeking.
Low-cost Motorcycle Helmets and Accessories for women
As discussed previously, open-face and half-shell helmets can be used by many passengers who travel with their friends because they are reasonably priced, lightweight, and comfortable to wear during the ride. It is easy to find a top-quality full-face helmet for less price. And even if you do often results in an item that isn't just cheaper in terms of cost, but also in terms of quality and maybe damaged earlier than we would are used to.
We have selected the top affordable women's motorcycle helmets that are cheap and come with all the essential technology and features that we shouldn't compromise. You might find one that is costly but trust me when I say that it's worth investing some extra money in the fitting helmet to safeguard you from serious head injuries and hospital bills.
Bluetooth motorcycle helmets designed for women
Many women who commute daily and commute to work or other places every day on their motorcycles require helmets with Bluetooth headset features to make necessary calls without stopping on the bike on the road.
In reality, I believe that helmets for motorbikes equipped with Bluetooth technology are more significant than ever. In today's hectic lives, it isn't easy to make time for a stop on the road to answer a phone or request directions is not in the possibility. That's why we've selected the top women's motorcycle helmets featuring Bluetooth capability that allows you to make receive calls, make calls, and listen to GPS navigation audio without the worry of being able to see it on the GPS mounts every minute.
The Bluetooth motorcycle helmets will not allow you to take your eyes off the road. Additionally, when you're riding in your women's motorcycle club, you can use the intercom feature to communicate with them with no hassle.
Women's lightweight Motorcycle Helmets
It was discovered that many cruisers who take long journeys and love their long, scenic ride prefer wearing an extremely light helmet that places the most pressure on the neck and still allows you to shield yourself from dirt and damaging UV radiation when riding. If you don't want to spend at least $500 for one of the top carbon-fiber motorcycle helmets, however, it's not possible to find a suitable helmet that is light and offers a high protection level. It's because impact layers and the composite shells add to the weight of the helmet, which is beneficial from the standpoint of protection but is not easy for ladies to wear.
So, we've picked two motorcycle helmets that are light but durable enough to protect your head from the impact of heavy blows. It is possible that you will not get what you're looking for. However, we suggest that you look into these helmets, and they will give you an impression of the weight and the most basic features you can purchase in a price range.
Women's Motorcycle Helmets DOT Approved
Most motorcycle helmets are equipped with a DOT sticker on them, if you're not aware. This is since they are DOT-compliant helmets for motorcycles which differ significantly from helmets that aren't DOT compliant. They were tested through various rigorous tests to determine the quality of the helmet's penetration, retention, and impact resistance to ensure they can offer the most protection to your head, face, and chin region in the event accident. This protection is any different for women riding motorcycles. Helmets for motorcycles that are DOT-compliant comply with the safety standards that are part of the Federal Motor Vehicle Safety Standard. This is why numerous foundations and government agencies require a full-face helmet that is DOT-compliant while riding.
Make sure you check for DOT approval each time you look for a helmet for your motorcycle. According to many studies that show DOT-compliant helmets cause fatal injuries in people who have been injured in a motorbike crash while on the roads.
To comprehend the significance of wearing DOT-compliant helmets and DOT-Complaint-compliant helmets in various states, review the NOPUS report on motorcycle helmets used based on the law.
What is the reason you need A Motorcycle Helmet?
Let's go straight to the core – "None of us can predict when is an accident going to happen?"
Then, why are we ignoring wearing the necessary equipment for riding that can prevent serious head injuries that can cause serious injuries or even our life?
It's because some riders believe they are
"We don't need a helmet while riding to a grocery store."
"Many motorcycle riders believe that helmets disrupt the joy of riding."
Many people avoid wearing helmets for motorcycles because they'd like to look cool.
"Are you kidding me?"
When does a motorbike helmet hinder your enjoyment of riding a motorbike? It can help us avoid any severe injury resulting from a minor slip or significant crash.
Additionally, wearing a helmet demonstrates a sense of accountability, which is a source of influence to the other riders on motorcycles and to females or other people who are passengers. It's hard to believe, but women on motorcycles frequently differ from males regarding issues with riding. Suppose you think that helmets are essential for riding, and you have to wear them regardless of where you're headed. In that case, most male riders are influenced by your beliefs and will appreciate the significance of the human experience.
How do you choose the fitting Motorcycle Helmet?
The first thing to remember is that a helmet for a motorcycle typically lasts 3 to five years. It is, therefore, crucial to think about the most important aspects before deciding on a motorcycle helmet. Don't buy an old helmet, as the second-hand helmet you're contemplating purchasing could be damaged by protective materials after an accident. Therefore, it's not an excellent idea to invest your money in a product that isn't likely to protect your head from injury in an accident. This is the reason we shouldn't delay any further on this. Let's look at the essential factors before deciding on the fitting motorcycle helmet.
The Shape & Dimensions of the Helmet
If you're looking for the perfect motorcycle helmet, make sure you check the size of your head and then take an accurate measure to get the fitting size helmet. If you can determine the correct size, it is easy to find the proper size helmet you're looking for, whether in a shop for helmets or on an online store or manufacturer's site.
There aren't all women with the same size head, so you could take a measuring tape and put it on your head to find the perfect circumference. You can then look at the chart of sizes for the motorcycle helmet below.
There are exceptions; however, some companies use slightly different size guidelines, which can affect the medium or large size of helmets offered by these companies. However, using this chart, you'll be able to get an idea of the size and select the appropriate size helmet.
Take note that if you are buying a helmet from a shop, I suggest testing different helmet sizes to test the fit and comfort.
The Type of Vehicle and the Riding Style
There's a reason we have mentioned the different kinds of helmets available before suggesting you choose one by the type of motorcycle you are riding. It is essential to be aware of the various types of motorcycle helmets in the market. I'm sure that you've got an idea of the different types of helmets used by motorcycle riders and know their benefits.
If you're a motorcyclist with a regular schedule, who has a cruiser that frequents rides, you will require an appropriate helmet that offers protection and a comfortable level for long rides. In this scenario, you'll need to pick one of the top open-face helmets which provide more airflow during riding. Additionally, it comes with the ability to shield your face from dust and debris away from your eyes. Of course, the shell must be made of suitable quality materials to protect your head from injuries during average falls or minor accidents.
If you are a motorbike driver on the street or an everyday commuter that has to commute to work or somewhere else daily and wear a full-face helmet, then a full-face helmet is the best choice to make since you'll be in a crowded area. Therefore, you should wear a full-face helmet which will offer the best protection for your head and allow you to cool your head at times.
Modular helmets are a good choice for ATV and Dual-sport riders who are more frequent and take long journeys to ride. A modular helmet gives them the safety of full-face helmets and the ease of an open-faced helmet to feel the cool breeze on their faces while minimizing the risk of injury in the event of a collision. ATV drivers similarly use this flip-up feature.
However, if you're an avid dirt biker or a motocross racer, an appropriate helmet for dirt bikes is the only option because these helmets were designed specifically for these types of dangerous activities.
You may be wondering, "When we can use half-shell helmets?"
We don't suggest anyone wear this type of helmet. Due to its low protection level, it does not protect the face or chin region. If you're riding on wheels, do not wear this helmet. Instead, opt for an open-face helmet that is identical to the half-shell; however, it offers adequate protection and airflow for the driver.
Oh, yeah! If you don't own a vehicle and are merely an individual with a companion or friend, you could opt for a half-shell headgear; otherwise, it's not appropriate. Many national foundations and associations recommend wearing a full-face headgear whenever you take a trip.
Safety Standards & Protection
To ensure that you've selected the correct helmet with enough protection, it is essential to check safety standards, not relying on the advice of a salesperson. This is because foundations and organizations for motor vehicles have rigorous methods and guidelines to test how well the helmet's retention and penetration and vision peripheral helmets are. If a helmet has been approved for safety standards, it's a sign that you've got the fitting helmet to prevent serious head injuries in a minor crash or fall.
And what are the standards we're discussing?
The DOT-Compliant helmet complies with the standards set out by the U.S Department of Transportation, ECE 22.05-Compliant helmets with the Economic Commission of Europe, and Snell helmets to meet the Snell Memorial Standard.
Tips for caring for the female motorcycle helmet
The good thing is that the care of a woman's helmet is similar to any other helmet. The steps are simple:
The idea of putting water on your helmet isn't a good idea.
Make sure to keep from burning in the sun as little as possible.
Make sure to avoid dust as much as you can.
Utilizing fiber for cleaning women's helmets is beneficial and recommended.
For cleaning the windshield on women's motorcycle helmets, make sure to use the same cloth.
Make sure you don't wear your helmet too much to make sure it lasts.
Can I be able to Bluetooth devices within a women's helmet?
Why wouldn't it? Bluetooth products can be fitted inside any helmet, and women generally like this feature.
What can dual visors do to help the driver when driving?
In my opinion, it makes the weight heavier on the helmet! It is hard to find a helmet that isn't lightweight! Actually, an additional visor could boost some weight, without a doubt. However, it does offer many positive aspects. If a roadway is dark, you could use a transparent visor. Also, if the surroundings are bright, you can choose a visor with a black tint to shield yourself from UV rays. You have two options. In light of the facilities it could offer, one could consider some weight. In reality, the extra weight is not much.
I'd like to know if my helmet Snell rating!
To make sure that your helmet is safe, You can verify it by checking whether it is ANSI or DOT-approved. Snell rating is not essential, and you shouldn't be concerned about it.
Are motorcycle helmets gender-neutral?
Yes, they do. You can purchase and wear any comfortable helmet for your head, and it is the kind and style you prefer. Choose a helmet that is appealing to you and makes you inclined to wear it.