The Live Music Capital of the World, Austin Texas is a hub for some of the major country, blues, and rock music events. But that's not all it's known for, its large size and abundance of natural scenery make it the perfect destination for dirt bike trails and the adventurous souls looking to tackle them.
So let's take a look at some of the best locations with the best trails for daring dirt bikers to enjoy.
1. Barnwell Mountain Recreational Area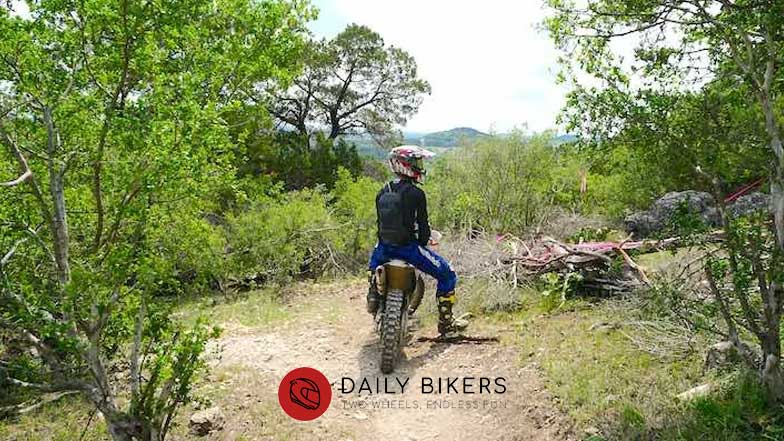 Considered one of Texas's best dirt bike trails, this area hosts a 27+ mile motorcycle loop, with shorter and easier 16-mile trails available for beginners. Barnwell Mountain Recreational Area sits at around 1,850 acres of mostly forested areas, with facilities and a trail system designed specifically for motorized off-road purposes. The trail system is developed and maintained by all-volunteer TMTC members and is mapped and rated with signage at the trailheads.
Overnight accommodations are available if you want to stay the night or the entire weekend, but you'll need reservations. This area is only open to dirt bikes and offroad vehicles, however, as they don't allow hikers, bikes, or horses.
2. Red River Motorcycle Trails
Originally established in 1972, the Red River Motorcycle Trails have become a Texas tradition since they were open to the public in the 1970s. Set in northeast Texas, RRMT is a part of a 2,700-acre park dedicated to ATVs (All-terrain Vehicles) and dirt bikes. They host several trails ranging from amateur to expert-level, where you can find loose sand, clay, and dirt, as well as steep climbs and descents. But you'll have to stick to the trails, as they don't allow trailblazing, you'll also find some of the most difficult trails in the country here.
Red River Motorcycle Trails is open to camping and RVs, with plenty of power but no water sources. They host two cabins available for rent and operate on the weekends from 8 am to 8 pm, with weekdays being possible provided you have a reservation.
Its scenic views and natural areas create the ideal location if you're looking for good dirt biking destinations, a refreshing hike, or a simple place to lounge around and enjoy the views.
3. Sam Houston National Forest
Located on the east side of Lake Conroe, Sam Houston National Forest offers around 85 miles of dirt bike trails with a bonus of multi-use trails that also serve as hiking spots. The trails at the national park are made up of mud & sand crisscrossed by many creeks, and considering this park is public property, it's open all year with a few exceptions depending on weather, environmental preservation, or other reasons.
Bear in mind that any OHV (Off-Highway Vehicle) must be less than 50 inches wide and display a decal, with more information available if you visit the USDA regarding rules and contact the Ranger's office before heading out. Also remember to call before you make plans, as camping is allowed, but there are also water sports venues.
4. Gator Run Offroad Trail
Located in the small community of Easton, Texas which is approximately 12 miles south of Longview, TX, Gator Run Offroad Trail is the largest off-road park in Texas with bulldozers on standby that are constantly making new trails and mud pits. They also offer RV campsites, free primitive campsites, tent camping, showers, restrooms, pressure washers, air pumps, a pavilion, and a concession stand
They are open Friday to Sunday from 8 am to 8 pm. All offroad vehicles are welcome. For weekday visits, you'll need to call ahead. Visit their website to make reservations
5. Rio Bravo Motocross Park
Making offroad trails since 1972, The Rio Bravo Motorcross Park works on a membership system, so if you're not a member, you need to call before you go. They're a full-service family destination complete with barbecues, picnic areas, restrooms, swimming pools, and most importantly, a deck that overlooks the dirt bike tracks. Their trails mostly consist of loose dirt and sand with several small to high jumps which are suitable for any amateur beginning their journey to the seasoned professional looking for a thrill.
The Rio Bravo Motorcross Park usually operates on Friday, Saturday, and Sunday, and is also open on the odd Wednesday from 10 am to 10 pm.
6. Cycle Ranch Motocross Park & Events Center
This 200-acre park doubles as an event center for concerts, benefits, birthday parties, and weddings in addition to being a dirt bike trail, providing the ideal space to do whatever you may need. It's a well-kept sanctuary filled with mature oak trees, a huge pavilion with a cafe that serves organic options, bathrooms, showers, and a pro shop. Their tracks mostly consist of loose dirt with plenty of jumps that are perfect for amateur riders, while pros and thrillseekers might find these tracks slightly tame for their liking
Visit their website to reserve cabins, RVs, or camping areas. 7. Village Creek Motocross Park
Considered the most ideal location for events, Village Creek Motorcross Park is the premier motocross playground in north Texas. Activities are found in abundance in Village Creek, with their event calendar always being full.
It's a smaller park with manicured lawns and 6 miles of biking trails that are well-kept with plenty of jumps and cater mostly to amateur dirt bikers.
8. Hidden Falls Adventure Park
This privately owned 3,000-acre comes complete with camping facilities, RVs, bunkhouses, and a motel. Hidden Falls Adventure Park is very organized, with trails that are hard-packed soil and very little loose dirt, lots of trees, some rocks, steep hills, and around 240 miles of off-road trails. Most of these trails are single-track with very few hazards, which is a haven for amateur dirt bikers.
For more information, visit their website and social media, and if you'd like to see the place for yourself, check out their YouTube channel.
9. Trophy Club Park
The Trophy Club Park is a golf-centered club, but they provide everything from horse trails, to boating, to dirt bike trails that span around 6 miles and are open every day.
The trails at Trophy Club Park are ideal for novices or amateurs, with mostly loose dirt and mud and very little hard-packed soil.
10. River Valley Motorcross
River Valley Motorcross is a little park of around 200 acres is located in Boyd, Texas. Their bike trails are all loose dirt, with more jumps than can be counted, plenty of space, and few riders, which is perfect if you enjoy solo rides.
It's also well-known for its wonderful staff and great hospitality, ideal for a day trip if you're looking for MX tracks close to Fort Worth.
11. Emma Long Metropolitan Park
This Austin city park is a convenient dirt biking destination if you live in the city, with around 9 miles of trail to explore. Camping at the Emma Long Metropolitan City is allowed, but a reservation is needed with park management.
The main loop trail is single-track, with double-track access trails. The soil is hard-packed, with packed-in rock, and loose softball-sized rocks spread throughout. The trails also offer several large rock step-ups, steep faces, and vertical climbs for advanced & expert riders. The park itself is a relaxing environment with plenty of shade and the trails range from advanced-level to expert and are not for amateurs.
They're open seven days a week, from 7 am to 10 pm.